Rpet refers to recycled polyethylene terephthalate or recycled PET. PET is a strong, durable, and recyclable material used in soda bottles, water bottles, and food cans, while RPET is made into blankets, insulation, auto parts, shoes, and more. RPET is produced by collecting, sorting, and recycling PET, then refining the material into flakes that can be converted into new products. Replacing PVC with RPET is a big step towards a greener, safer, and cleaner future.
Why Choose Rpet Material?
As concerns grow over the amount of plastic in oceans and landfills, manufacturers are building products with more sustainability in their materials. Therefore, rpet fabrics have gradually become the ideal choice for manufacturers. Approximately 33-53% less energy is used to manufacture rPET fabric than to produce virgin polyester. Therefore, choosing rpet material to manufacture is conducive to protecting the environment and avoiding recycling problems.
Most Common Advantages of Rpet
Rpet is ideal for manufacturers because of its numerous advantages. The following are some of the most common advantages of rpet.
Reduces plastic going to landfill - Manufacturers use rpet to make products, freeing the product from recycling issues while keeping it free of toxic chemicals leaching into groundwater during its decomposition phase. At the same time, to a certain extent, reduce the flow of plastic waste into the ocean.
Reduced Costs - Consumers are increasingly demanding recycled materials, thus driving down their prices and shipping costs. Besides, adding a focus on good design means reducing costs and waste by reducing the amount of plastic used.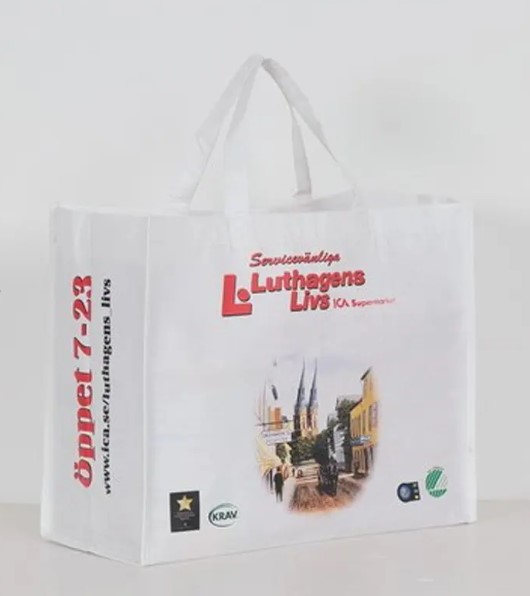 Why Recycling Matters Still Matter?
According to data, leading suppliers of rpet fabrics show that compared with virgin polyester, 85% less energy is required, 65% fewer emissions, 50-65% less carbon dioxide and sulfur dioxide, and 90% less water is required. Plastics take about 700 years to decompose, so recycling is very important. Plus, they may not have fully broken down during the decomposition process, so they can still harm the ecosystem. Rpet may not be the perfect solution, but it is indeed one of the ideal solutions. In addition to shoes and clothes made from rPET fabric, reusable shopping bags can also be made from this material; using shopping bags made from this material also reduces the use of single-use plastic bags. Considering its advantages and disadvantages, rPET is a more sustainable option.
What is A Rpet Laminated Bag?
Rpet has also become an ideal material for laminated bag manufacturers. Simple, laminated bags are bags made from two or more layers of material bonded together using heat and pressure. The most common two-ply materials are plastic and paper. Laminated bags start with a white bottom layer (substrate). Then, a thin polypropylene sheet was printed with the graphics in four colors and laminated on top of the substrate. The top layer is heat bonded for a permanent seal. Panels are precision cut and sewn after printing. the laminated bag made of rpet material is not only very strong but also reusable, helping to protect the environment.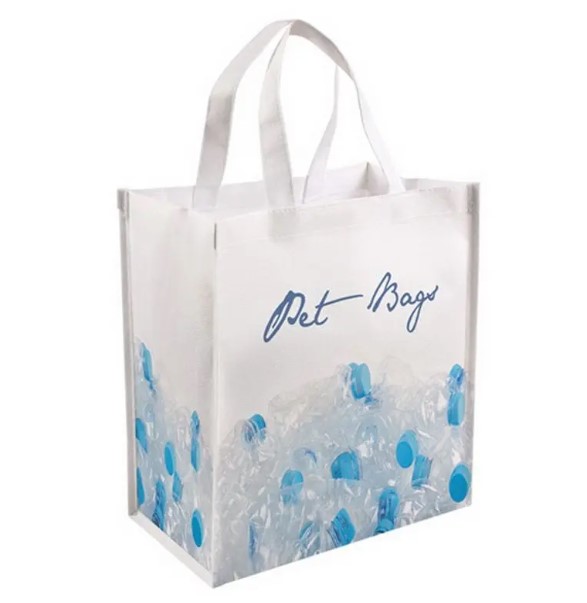 Conclusion
If you are looking for a rpet laminated bag manufacturer, Neway will be your good choice. We are a supplier of laminated bags with rich production experience, and we are also committed to producing various types of shopping bags. Such as canvas bags, cotton bags, tote bags, drawstring bags, and so on.
In addition, we also provide customized services, if you need customized services, you can contact us by phone or email.