Climate change, global warming, white pollution, and other things make us more and more realize the importance of protecting our mother earth. And, using reusable biodegradable bags and recycled bags is one of the effective methods to protect our mother earth. Then, one of the alternatives for harmful plastic bags is a reusable woven bag. However, it requires a labor-intensive and time-consuming process to design woven bags. Because of the competitive market, many businesses tend to abandon this product. Thus, laminated bags are the new option for businesses.
In simple terms, laminated bags, are a finished product of different materials "glued" or laminated together. It is used for packing or carrying items. The laminated bags are super strong and durable and allow full-color processing. And, the laminated bag can be made from different materials. Non woven laminated bag, pp woven laminated bag, rpet laminated bag, and laminated kraft paper bag are the most commonly seen in daily use.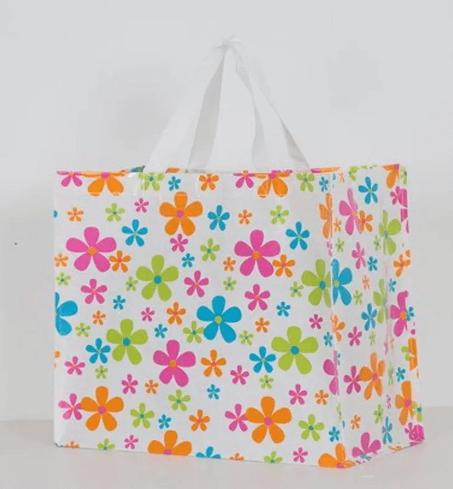 Material of Laminated Bag
Generally speaking, most laminated bags tend to use the following three substrates. And, no matter what type of substrate you use, it only can be seen on the inside of the bag. In other words, you can not see the substrate you use from the outside of the bags.
●Woven PP: The PP strips are woven together, then bonded with the lamination layer. This material is sturdy, so the pp woven laminated bag can be used for producing sand bags, tarps, and other industrial uses. However, this material wrinkles after 6-8 months.
●NWPP: NWPP refers to the non-woven PP. The layer of non-woven lamination gives non woven laminated bag a strong, puncture-resistant top layer for a smooth great looking bag. Therefore, it could be the ideal option for non woven grocery bags and non woven promotional bags for any business.
●Recycled PET (rPET): The raw material of recycled PET (rPET) is shredded water bottles. The shredded water bottles are spun into a substrate fabric to create recycled reusable bags. Since the lamination sheeting is not recycled, the final product contains about 85% post-consumer waste. And, rpet laminated bag is the perfect flag in eco-friendly bags, which can confirm your commitment to the environment.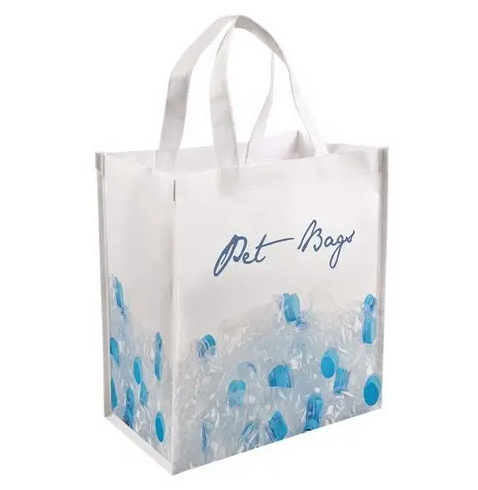 How are Laminated Bags Made?
To make the laminated bag, it starts with put a thin layer of printed four-color-graphics polypropylene sheeting on top of the white substrate. Then, use the heat bonding to make a permanent seal on the top layer of polypropylene sheeting. After that, panels are precision cut and sewn after printing.
What are the Benefits of Laminated Bags?
In addition to the eco-friendly, laminated bags tend to provide other benefits which the traditional packing options don't have.
Less Cost in Production
The manufacturing process and packing process of laminated packaging bags are relatively simple. The laminated bags suppliers spend relatively less time and cost in manufacturing laminated bags.
More Options in Customization
The laminated bag is customized to meet the diverse packaging requirements according to the commodities. And, it also can be made from film substrates with specific packaging properties such as water resistance, oxygen resistance, light protection, oil resistance. Therefore, it provides more freedom in customization.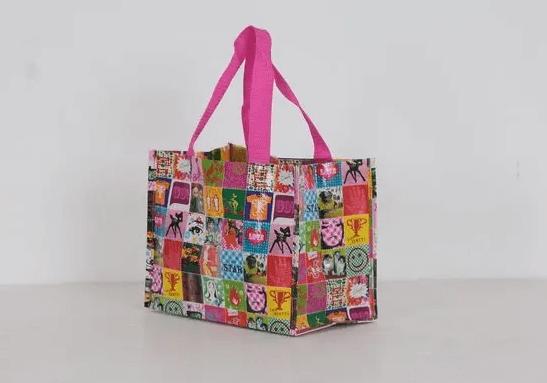 Light-Weight
The laminated bag generally has the feature of light texture, softness, and comfortable hand feels. Also, the substrate of the laminated bag can be different. For example, using kraft paper as the substrate, a laminated kraft paper bag offers a unique and vintage surface to users. And, the pp woven laminated bag has a smooth and even surface that is easy to customize and conveys product information is good.
Conclusion
The laminated bag is an eco-friendly and practical product for companies and users. It could be one of the greatest options to implement the activities of protecting our mother earth.
Neway is one of the leading pp laminated bags manufacturers & laminated bags suppliers with an efficient production process. With rich manufacturing experience and sufficient workers, we are able to produce 1000,000pcs bags per month, including cotton bags, non woven bags, laminated bags, polyester bags, coasmetic bags, beach bags, PPE products, cooler bags, biodegradable bags, felt bags, washable paper bags and so on.